Nanoha Raising Heart Sounds
I set up this site after looking around for sounds... and then a few days later found out there are soundtracks with pretty much all lines spoken by the intelligent devices, without any background music or noise. Oh well, I found the lines I wanted and more.
I started grabbing some of these for phone sounds since I found this wallpaper for my Palm Pre 2:
nanoha-background.jpg
(Note: the image is from: http://newpspmoajo05.blog129.fc2.com/blog-category-30.html) (Download link is just underneath the picture.)
and hacked the "Just Type" message to say "I am ready, my master!":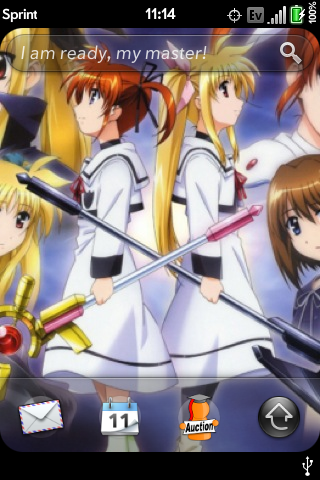 Before I knew it, I had more sounds than I needed. I figured other people might want to use some too. So, here are the sound files:
All right.
Axle mode. Standby ready.
raising-heart-axle-mode-standby-ready.mp3
Barrier jacket, setup.
raising-heart-barrier-jacket-setup.mp3
But unfortunately, I can do little on my own. In a sense, I'm merely a vehicle. Without a driver, I cannot fully display my capabilities.
raising-heart-but-unfortunately-i-can-do-little.mp3
Various chime noises. I use #3 for incoming text messages.
Clear to go.
Clearance confirmation. Firing lock is cancelled.
raising-heart-clearance-confirmation.mp3
Commencing image training.
raising-heart-commencing-image-training.mp3
Divine shooter.
raising-heart-divine-shooter.mp3
Flier fin.
Good answer. But what else?
Hold out your strongest hand.
raising-heart-hold-out-your-strongest-hand.mp3
How much do you know about magic?
raising-heart-how-much-do-you-know.mp3
How to fly and shoot, and the theory and practice of aerial combat. I will teach you these things.
raising-heart-how-to-fly-and-shoot.mp3
I believe, master.
raising-heart-i-believe-master.mp3
I can be shot.
raising-heart-i-can-be-shot.mp3
If that is what you desire, and you are willing to put in the work.
raising-heart-if-that-is-what-you-desire.mp3
Imagine you're about to strike.
raising-heart-imagine-youre-about-to-strike.mp3
It approaches at high speed.
raising-heart-it-approaches.mp3
It comes.
Let's shoot it! Starlight breaker.
raising-heart-lets-shoot-it-starlight-breaker.mp3
Load cartridge.
raising-heart-load-cartridge.mp3
Master, please, call me cartridge load.
raising-heart-master-please-call-me-cartridge-load.mp3
Master, shooting mode acceleration.
raising-heart-master-shooting-mode-acceleration.mp3
May I select the optimum configuration for the barrier jacket and the device?
raising-heart-may-i-select.mp3
No, it is not a living being. It is an entity from lost logia.
raising-heart-no-it-is-not-a-living-being.mp3
Protection.
Receipt number XXI.
raising-heart-receipt-number-21.mp3
Restrict lock.
raising-heart-restrict-lock.mp3
She is more advanced than you! You won't beat her easily.
raising-heart-she-is-more-advanced-than-you.mp3
Shoot the bullet.
raising-heart-shoot-the-bullet.mp3
Shoot.
Speed and power are essential in combat, but there are more important things. Do you know what it is?
raising-heart-speed-and-power.mp3
Standby, ready. Setup.
raising-heart-standby-ready-setup.mp3
Then I shall teach you everything. Please do as I say.
raising-heart-then-i-shall-teach-you.mp3
Trust me, my master.
raising-heart-trust-me-my-master.mp3
Welcome, new user.
raising-heart-welcome-new-user.mp3
Wide area search successful. Coordinates are specific. Distance calculated.
raising-heart-wide-area-search-successful.mp3
Wisdom and tactics.
raising-heart-wisdom-and-tactics.mp3
Yes, I can hear you.
Hmm, that would make a good ringtone. I'm using "It approaches at high speed" though.
raising-heart-yes-i-can-hear-you.mp3
Yes, mostly.
Your magic level qualifies you to use me.
raising-heart-your-magic-level.mp3
Your magical powers are impressive.
raising-heart-your-magical-powers-are-impressive.mp3
Also, here is the ringtone Nanoha uses in the TV series for her alarm.
Think Nanoha's intelligent device is called Raging Heart? That's also a good name, but its real name is: レイジングハート.
Yay, 魔法少女リリカルなのは on my phone.